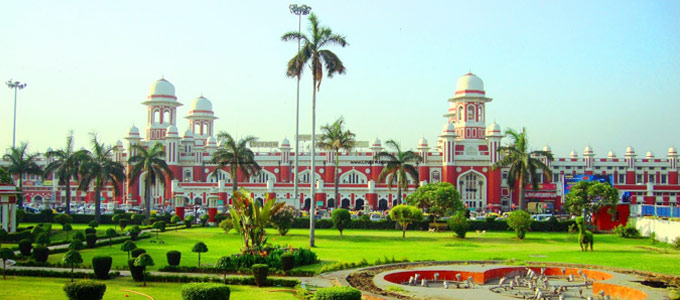 Lucknow is a city synonymous with the Nawabi Culture and is known for its adab and Tahzeeb, Lucknow is also associated with its legendary hospitality, leisurely moods of life, fabled edifices steeped in history, world-renowned cuisine and exquisite Sham-e-Awadh. Tremors of time have not effaced Lucknow of its cultural heritage and traditions.

As the legends run, the city of Lucknow was founded by Laxman, the younger brother of Lord Rama and accordingly named Lakshmanpuri which through passage of time became Lakhanpur and finally Lucknow. According to historians it was occupied by Mahmud Ghazni and later by Humayun in 1526. During the reign of Akbar, Sheikh Abdul Rahim managed to have him appointed as Jagirdar of Lakhanpur and its adjoining areas. The territory flourished during his and his ancestor's regime, Sheikh Abdul Rahim built the historic Machhi Bhawan and five palaces for himself and his wives. These buildings of architectural beauty became extinct during the first war of independence of India and on these ruins today stands the Chhatrapati Shahuji Mahara_j Medical University (upgraded King George's Medical College.)

In 1722 the Persian adventurer Saadat Khan was appointed as Governor of Oudh. He met the resentment of the Sheikh Zadas. The Descendant of Sheikh Abdul Rahim. However, with the help of a superbly trained army Saadat khan captured Macchi Bhawan and was succeeded by the line of rulers known as the Nawabs of Oudh. The royal emblem of fish was conferred on him by the Mughal Emperor, which has now become the official seal of U.P. State Government. Under the Nawab during eighteenth and nineteenth centuries, Lucknow flourished and acquired the glory, which permeates its surroundings and environments even today. However, the credit of building most of old Lucknow to its magnificent heights goes to the fourth Nawab Asaf-Ud-Daula (1775-1797). During this period Nawab Asaf-Ud-Daula broke away from the declining Mughals in Delhi.

Lucknow has ever since been a musically fertile soil and there is no aspect of Hindustani music which was not enriched and nurtured here. Some of the greatest exponents of the Khayal and Maestros of Sitar. Vaena, Sarangi, Pakhawaj and Tabla lived here and enriched their respective arts. It is a matter of great pride that internationally renowned Birju Maharaj, Shambhoo Maharaj and Lachho Maharaj the great exponents of Kathak dance, belong to this city. The age old arts and crafts of Lucknow embrace a wide variety of items such as chikan work, khas curtains, clay toys, embroidery Meena, zari, kundan jewellery, kifes, fabulous tazias and renowned perfumes. Chikan work of Lucknow is in great demand all over the world. Most of these crafts are in the hands of old families who need all incenti,es from the authorities. With the impact of modern culture these crafts have struggled to coexist and thereby have kept intact the characteristics of old Lucknow. It will be worth mentioning about the most renowned and popular variety of mangoes called Dussehri and Safeda of this city. These mangoes are being exported all over India and abroad. Muskmelons and 'Kakris' of Lucknow are also popular.